One of the biggest reasons why people are unable to acquire homes is because of down payments. Even with moderately priced properties, the down payment may run into thousands of dollars. Some people are unable to afford them and then they end up abandoning the idea of getting home. Traditionally, you will be required to make a 20% down payment when you apply for a mortgage. If you think you are ready to get a property but cannot afford the down payment, there is no need to give up the idea of owning a home. You have one option, that is, to find a program that will help you to meet your goal.
Should You Actually Consider a No Down Payment Option?
Before you rule out the idea of a down payment, you need to know the pros and cons involved in paying a down payment on the property you are purchasing. You can make an informed decision with all the information. A down payment has several advantages for you the borrower. Lenders try to reduce the risk involved in lending by taking down payment. If they get a good down payment, the rate on the loan will be lower. Even a little reduction in interest rates on a loan can save you a lot of cash. On the other hand, not paying down payments makes it riskier for the lender to lend you cash. That translates into higher rates. Hence, if you can afford to make a down payment, do not avoid that option.
You can also avoid Private Mortgage Insurance (PMI) if you pay a higher mortgage. This reduces your monthly payments. At least, you will not be struggling with a high payment at the end of every month.
Although these things show that it is a great idea to put down a down payment, it does not mean that you should only try to acquire a home when you can afford the down payment. In fact, many people have been able to acquire homes because they went in for the zero down payment option. Hence, if you can afford to make a down payment, by all means, do so. If not, you should look for a zero down payment option. You can also look for low down payment options. Some of them may be affordable.
Mortgage Programs with Low or No Down Payment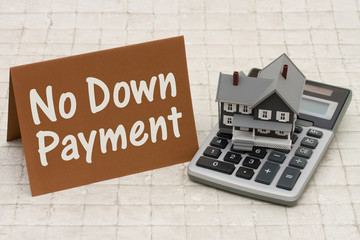 There are a number of mortgage options for people who do not want to pay any down payment on their loans. There are both government and private options. The government options will be mentioned first.
   USDA loans
The loan is offered by the U.S Department of Agriculture to help people in the rural areas to get housing. This program was known formerly as Section 502 mortgage but it is now commonly known as the Rural Housing Loan. The down payment required for when you apply through this program is zero. Borrowers also pay a lower Mortgage Insurance Premium (MIP) when they apply through this program. The MIP is 0.35% and the good thing is that the MIP fee is added to the monthly payment. Fortunately, USDA eligibility map is not limited to rural areas; some suburban areas are also covered in the eligibility map. USDA loans also offer several other benefits. This includes the following: you will be allowed to include eligible home repairs in your loan amount. There is also a maximum home purchase price. Financing your home ownership using the USDA is the cheapest option. You will be required to pay 1% as an upfront fee on the loan. There are limits on this loan and the limit varies from one county to the other. The amount ranges from $117,000 to $576,800.
   FHA Loan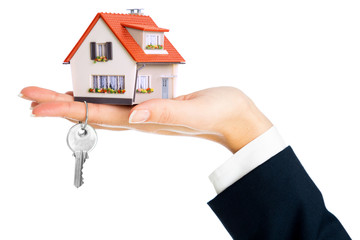 This option is offered by the Federal Housing Administration. This institution was created in 1934 to make home ownership easier for low-income American citizens. If you are looking for a financing option with a very low down payment, the FHA loan is a very good option. FHA does not offer loans – they insure loans instead. They have a set of guidelines for the borrowers. When the bank offers a loan the meets the requirement, FHA will fund the loan. This organization insures loans that meet their requirements. Once they insure a loan, it means they are agreeing to accept responsibility for the loan in case anything goes wrong. This gives lenders the confidence to offer these loans. FHA insures loans of borrowers with a minimum credit score of 580. These borrowers need to make a 3.5% down payment on the loan. They can also pay a 10% down payment on loans with credit scores lower than 580. They have several loan terms to choose from. You can choose between the 15 and 30- year loan terms. With the 15-year term, you will be making higher monthly payments but you will be able to clear your debt faster. There is an option that allows you to get this funds without making a down payment. You can use gift funds for the down payment. This means that your company, relative, or friend can offer you a gift for your down payment. The good thing is that you can easily qualify for this loan.
   VA Loans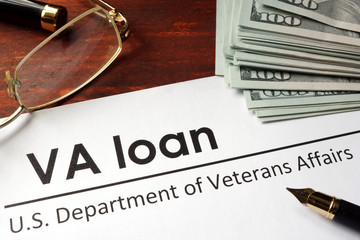 The VA loan is guaranteed by the United States Department of Veteran Affairs. The VA loan is available for veterans, some members of the National Guard and Reserves (members who have served for at least 6 years), spouses of service personnel who lost their lives in the line of duty, and members of active duty service. You do not need to make a down payment since VA loans offer 100% financing. Another good thing is that you do not need to worry about mortgage insurance. That alone can save you thousands of dollars annually. The borrower will, however, need to pay a funding fee. This fee varies but it ranges from 1.25% to 3.3%. The funding fee is usually added to the loan amount. Fortunately, people do not immediately disqualify for VA loans due to bankruptcy. That means such people will be assessed to see if they can still qualify for the loan. The minimum credit score requirement for VA loan is 620 and there is no limit on the amount you can borrow for VA loans, although, there is a limit on the amount VA can guarantee.
   Navy Federal Credit Union
This institution is the largest credit union in the United States when it is measured by membership and assets. Navy Federal Credit Union offers 100% financing for people who qualify for this funding. People who qualify include military personnel, staff of the U.S Defense Department, their family members, and civilians who are employed in the military. The funding is for people who intend to purchase primary homes. The only fee you should think about is the 1.75% funding fee.
Private lenders for Zero or Little Down Payment
   Rocket Mortgage
This loan is ideal for people who are buying homes for the first time. Rocket Mortgage has an app that makes it convenient for you to check on your account. You can easily apply for a loan without anyone's guidance. You will also know the exact loan amount you qualify for within minutes of applying for the loan. The entire application process is fast. Unfortunately, Rocket Mortgage does not offer home equity loans. You will need a minimum credit score of 620 and you will also need to make a 3% down payment to access this loan.
   Bank of America
If you are a first-time borrower and you are trying to avoid the mortgage insurance premium, this loan is a good option. With Bank of America, you will access a lot of mortgage options. You will need to make a 3% down payment and you will also need a minimum credit score of 620. In some cases, it takes a longer period to close the loan; the time frame is longer than that of other lenders.
   CitiMortgage
If you want to save as much money as possible, CitiMortgage can help you out. You will not need to get private mortgage insurance when you apply for their loan. if you are a CitiBank customer, there is even bigger news. You will enjoy discounts on rates. CitiMortgage also requires a 3% minimum down payment.
   Flagstar Bank
If you are someone who wants to receive services from people you see, this bank may just be the right option for you. You can apply for an FHA loan through this lender. They also offer home equity loans. They offer loans that are tailored to your needs. The minimum credit score requirement is 620 and you should be ready to make a minimum down payment of 3%.
   PNC
PNC offers a community loan for low and middle-income borrowers. They also offer FHA loans. you can easily manage your application using the Home Insight Tracker on your tablet, phone, or PC. You do not need to worry about application or origination fees. You will, however, need a minimum credit score of 660.
   SunTrust
If you have a little saving for your down payment, you can consider SunTrust. They have a lot of competitive loan options for people who are ready to make a 3% down payment or more. With this lender, you will need a minimum credit score of 620.
   Quickens Loans
Quickens Loans is a good option for first time home buyers who do not mind going through the entire application process online. This institution instantly verifies your income and employment information fast-tracking your application. You can apply for FHA and USDA loans through this lender. Unfortunately, Quickens Loans do not offer equity loans. This lender also requires a minimum credit score of 620 and a minimum down payment of 3%.
How to Find a Program that is Right for You?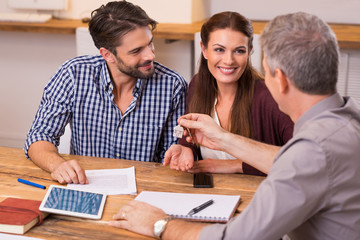 You can get housing counselors to help you identify the options that will work for you. You can get the services of a free housing counselor through the housing financing agencies. You can also get in touch with a good home broker. He or she will provide all the information you need about your eligibility on the available programs.
While it may look like an easy decision to choose between a no down payment and a down payment mortgage, the decision is never easy. It is important that you analyze your options and make sure that you do not overburden yourself financially. The decision also depends on whether the home you intend to purchase will be your primary home or not. If it is your primary home, lenders are often more flexible because they know that you will be cautious with your loan payments. They know that the property is now your primary shelter hence you will do everything to pay off the loan.
Whatever your needs are, make sure that you check all the options and choose one that will help you to save on rates and fees. If you can save for your down payment, you should do that so that you can get mortgages at lower rates.