The Best Low Credit Score Mortgage in 2019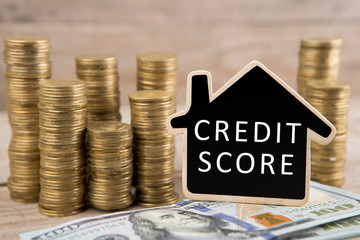 Credit scores play a major role in the financial world, and especially when it comes to applying for a loan. If you have a high credit score, there are higher chances that you will qualify for loans from different lenders, and you will also be lucky enough to get the loan at a lower interest rate. But if you have less-than-stellar credit, which is also referred to as bad credit, getting approved for even the smallest loan amount may not be that easy. The minimum credit score requirements when applying for a mortgage depends on the loan type that you are applying for.
There are some mortgages that have lower credit score requirements than others. These include USDA, VA, and FHA.  The lender you work with will also determine the credit score that you are required to have when refinancing a mortgage. Generally speaking, mortgages are offered in large sums of money and they also have a longer repayment term. This means that they also have strict requirements compared to most financial options like short-term loans, for instance.
While your income and current liabilities will also determine whether you qualify for a mortgage or not, credit scores play a major role. The lower your credit score the riskier you are to lenders, and chances of getting a mortgage will be less. This is one reason why it is very important to ensure that your credit score is at its best when applying for a mortgage, and especially if it is a bank mortgage.
5 Mortgages for People With Low or Poor Credit
Even if you have poor credit, it doesn't mean that you are out of option if you want to buy a home. There are actually a number of mortgages that are designed for people with low or poor credit. If you fall in that category, the following are some of the best options that can work well for you.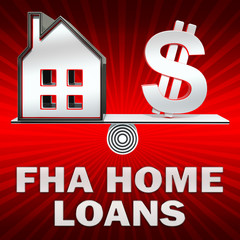 FHA loan
You can apply for a Federal Housing Authority (FHA) loan even with a credit score of as low as 500. There are, however, other requirements that you also have to meet, but you should be prepared to pay more on interest if you have a low or bad credit score. What matters most is that FHA will give you a chance to purchase a house if you have bad credit, an opportunity that is hard to find in many financial institutions, especially banks and credit unions. The Federal Government insures loans from FHA. The best thing about FHA loans is that their down payments are usually lower. Besides, they have a more flexible income and debt ratios. You will pay a down payment of 10% if your credit score is between 500 and 580. For those will credit scores of more than 580, a down payment of only 3.5% is required.
VA home loan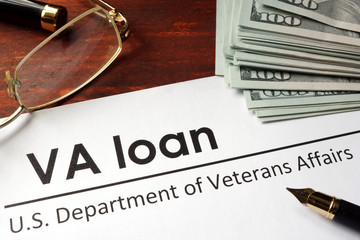 The Veterans' Administration also offers loans to veterans with bad credit. This helps qualified veterans get access to home loans even if their credit history isn't that good. The good thing with these loans is that they do not have minimum credit requirements, making it easier for people with low or bad credit to qualify. The home loans have low monthly payments and their terms and conditions are also favorable compared to other types of mortgages offered to civilians who have the same credit score. There is also no down payment required. Bad credit VA loans are guaranteed by the government, but they are actually private loans. This means that you need to find an actual lender when you need the loan. Your debt to income ratio will also be considered when applying for a loan, hence borrowers with high debt liabilities may find it hard to qualify for the loan. But for veterans, there are quite a number of options available. The loans also do not have risk-based pricing adjustments. People with good credit and those with bad credit get the same interest on the loans. There are mortgage lenders that specifically offer bad credit VA loans, and they can help veterans get a house more easily.
USDA home loan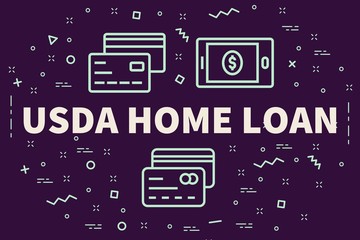 For borrowers in the rural and sub-Saharan areas, a USDA (U.S Department of Agriculture mortgage program, can be a good option. There is no down payment required for the loan. The main aim of the program is to improve the quality of life as well as the economy. The loans are very accessible and they also have low rates of interest. USDA loans have minimum income requirements depending on the household size and location. The loan requires you to make monthly payments of at least 29% of your monthly income. You can apply for the mortgage if you do not have a safe, decent and hygienic housing and you don't qualify for traditional home loans.
Conventional loan
Compared to government loans, conventional home loans have more stringent requirements when it comes to credit scores. However, borrowers with bad credit can also qualify. Most conventional loans are also referred to as conforming loans. This is because they have to comply with the rules and guidelines set by either Fannie Mae or Fredrick Mac.  The main role of Fannie Mae and Fredrick Mac is to purchase the mortgage from the lenders and sell to investors with the aim of making them accessible. To qualify for conventional mortgages, you should have a minimum credit score of 620. They also require a 50% debt to income ratio. The loans can be used to buy primary residence, rental property or even a second home.  You can make a down payment of as little as 3%. If you pay a down payment of more than 20%, no monthly mortgage insurance payment will be required.
Home possible loan
This type of conventional loan was created by Fredric Mae and they have a small down payment of between 3 and 5 percent. The loans can be a good option for younger or first time buyers. You can use the loan to either purchase a home or refinance your mortgage. People with low or poor credit scores can also apply. What's attractive about the loan program is that you don't need to have a credit score to qualify.
Not all mortgages are the same
FICO scores have a range of 300-850. No matter where you are in the credit score range, you may still achieve your dream of owning a home. Mortgage loans also vary when it comes to requirements. For instance, government loans have more flexible terms and interest rates compared to non-government loans. It is important to do background research on both types of loans and ensure that you apply for one that has higher chances of approval. There are also mortgages that are specifically offered to people with bad credit. For home buyers with fair credit scores, your chances of getting approved for a mortgage will be higher compared to those with poor scores. But no matter what your credit is, it is advisable to check out all the options available. You might find that there are mortgages that you can easily qualify for when you had already lost hope of buying a house due to unattractive credit.
Tips for improving your credit before getting a mortgage
Whether you are already in the process of searching for a home to buy or you are still thinking of getting a home in future, it is important to use the time to at least make your credit score attractive to lenders. With a low credit score, be prepared to pay more in terms of interest rates and the opposite applies to those with good credit. If you have a higher credit score, you will end up saving thousands of dollars at the end of the day. The first step you can take even before you start with the application process is to confirm if there are any errors in your credit report.
A good number of consumers find errors in their credit reports and the sooner you ensure that these errors are corrected the better for you. Remember that even the smallest of errors can be a great deal when it comes to the interest rate that you will pay for a mortgage. Secondly, ensure that your credit card debts are reduced or better still eliminated. It is actually better to have a balance in only one of your credit cards than keeping a balance in all your credit cards.  Lastly, ensure that all your bills are paid in full and on time. This is actually one of the best strategies to improve your credit score, bearing in mind that payment history contributes a whole 35% of your credit score.
Final thoughts
You may not be disqualified for a mortgage if you have poor credit. However, the rate of interest and down payment tend to be higher for borrowers with poor credit compared to those with good credit. FHA home loans, for instance, can be a good option for such borrowers. You can also apply for bad credit VA loans if you meet the requirements. The two are offered by the government, meaning that they have low interest rates. If you apply for a mortgage with bad credit from alternative lenders, the interest rate may be higher. All in all, what matters is that you have options available. By getting quotes from different lenders, you may be lucky enough to qualify for a mortgage even when you did not expect to.