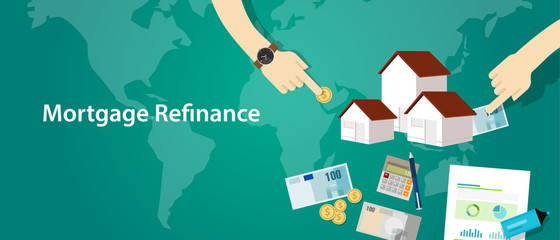 There is no denying that bad credit can hinder you from getting affordable loans and credit options. This, however, doesn't mean that there are no options available. There are also loans that are designed for people with bad credit. If you need a home loan and your credit score isn't attractive enough, there are home loans available for consumers with bad credit. You can easily get a home loan with a credit score of as low as 580. If you have poor credit and you want to refinance a mortgage, there are options available. But there is one thing that you have to take note of – the terms and conditions for such loans are not that friendly.
What is mortgage refinancing?
Refinancing a mortgage simply refers to getting a new mortgage to replace an existing one. Consumers usually refinance a mortgage in order to acquire better loan terms like affordable interest rates. Mortgage refinancing involves paying off the original home loan and acquiring a new one. It actually can make owning the home more affordable and favorable. By refinance a mortgage, you will also pay a reduced amount as opposed to the original mortgage amount. Mortgage refinancing can be difficult if you have a poor credit rating. But this does not mean that you cannot refinance a mortgage if you have less-than-stellar credit.
Why do people refinance mortgages?
If you want to receive affordable terms and better interests on the loan, one of the things you can do is refinance your mortgage. Mortgage refinancing will also reduce your monthly payments. You can then have extra cash to cater for other monthly expenses. But this is not the only reason why people refinance their mortgages. If for instance you make a fortune, maybe from an increased salary, you may want to refinance the loan and make large monthly payments to reduce the loan term. This will help you build equity faster considering that the financing fees will also reduce. Lastly, you can refinance a home loan in order to get a better credit score.
There are several ways you can use to refinance your home loan if you have bad credit.
Seek refinancing from your mortgage lender first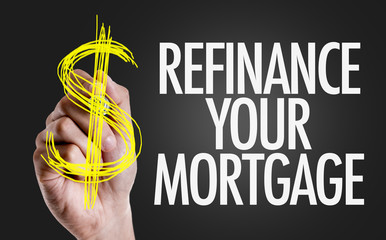 A good place that you can start to negotiate for a mortgage refinancing is with your lender. Seeking refinancing from the original lender can be beneficial since you will be dealing with a firm that you have been in touch with for a while. There are also chances that the lender may offer you better interest rates. But since the rates also vary from one bank to another, you can still shop around to find out what others are offering. If you cannot get refinancing from your original lender, then you can consider other options.
Draft an attractive application
Borrowers with poor credit are considered as risky by lenders. To increase your chances of getting approved, you need to be smart when drafting your application. Any information that can portray you as a responsible borrower should not be left out. If for instance, you have retained the same job for several years, ensure that you include the information in your application form. Remember that one of the requirements to qualify for funding is that you should have a steady source of income.
Home Affordable Refinance Program (HARP)
Consumers who have difficulties refinancing their mortgage can enroll in the HARP program. The program was launched after the great recession to help those who had more debts than the value of their homes to refinance the loan into affordable, low interest loans. More than 3 million Americans have benefited from the program so far, including those with poor credit scores. Among the benefits of the program are;
        You will get a loan with lower interest rates, which means that you can easily manage the monthly payments

        The loans also have a shorter loan term

        There are no minimum credit score requirements

        There is also less documentation required.
To be eligible for the program;
        The loan should be owned by either Fannie Mae or Freddie Mac

        You shouldn't have missed or made any late payments in the last six months

        The loan to value ratio should not be less than 80%

        You must have a residential property

        The loan should have been sold to either Freddie Mac or Fannie Mae by 1st June 2009

        You should not have used HARP to refinance your mortgage before
Show the lenders you have savings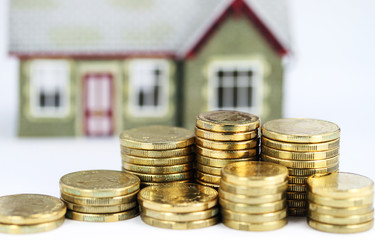 If you have a bad credit report, you are assumed as high risk by lenders. They may think that you won't be able to repay your debts promptly. This may, therefore, lead to them charging you high interest rates in order to acquire mortgage refinancing with bad credit. Showing the lenders that you have savings may help in negotiating the terms of the loan. You can easily convince the lender that you will pay the loan with savings as security. 
Lower your debts
Your debt to income ratio can also play a major role if you want to refinance mortgage with bad credit. Debt to income ratio is obtained by dividing your total monthly debt by your gross monthly income. You can calculate your debt to income ratio in two ways;
        The first calculation involves the total housing costs divided by the monthly income. This method is referred to as the front end ratio method. A front-end ratio of less than 28% is preferred by most lenders.

        In the second method, the total monthly debt is divided by the total monthly income. The total debts may comprise of student loans, car loans, credit cards payments and child support among others. A back end ratio of 33% or less is preferred. One way of acquiring a good debt to income ratio is through reducing your credit cards debts.
Recast the loan
This is also another strategy that will be used by people with bad credit score to refinance their mortgages. Recasting a loan simply means paying a huge amount of money to the lender. There are two ways in which this can be done. The first way one includes paying a large sum of money as principle. This will then lead to your loan being recalculated. However, the terms in this method will be similar to those of the original loan. But the rate of interest will be lower. Another way is through paying the huge amount and not recasting the loan. This means that you will reduce the principal amount of the home loan but the monthly payments toward the mortgage remain the same. The sweet spot in this strategy is that you do not need to have a good credit score. Lenders do not check the credit score when recasting the loan. If, for example, you receive a huge sum of money at once, then you can pay your lender and let them recast your home loan. This way you will receive better terms on your home loan, like low interest rates and more comfortable terms for you.
Improve your credit score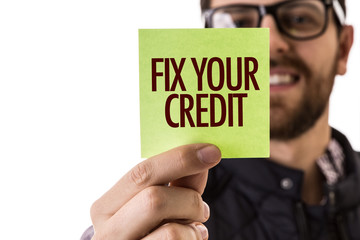 If you are seeking to refinance your mortgage with bad credit then a good point to start is by improving your credit score. This can be done by examining and evaluating your credit reports. This will help you identify why you have a bad credit score and come up with ways to improve it. Some of the ways you can use to improve your credit score is to ensure that you don't make late payments and reduce your credit card debts to less than 20 % of the required credit limit.  You should also avoid closing your existing credit accounts even after you pay off your balances.
Conclusion
Having a bad credit score does not mean that you won't be able to refinance your mortgage. There are several ways you can use to refinance your mortgages with bad credit, though it may be at higher interest rates in some instances. You can use the above-explained strategies to start out. It is also advised to apply for refinancing from different lenders. If one rejects your application then someone else might be interested in doing business with you.